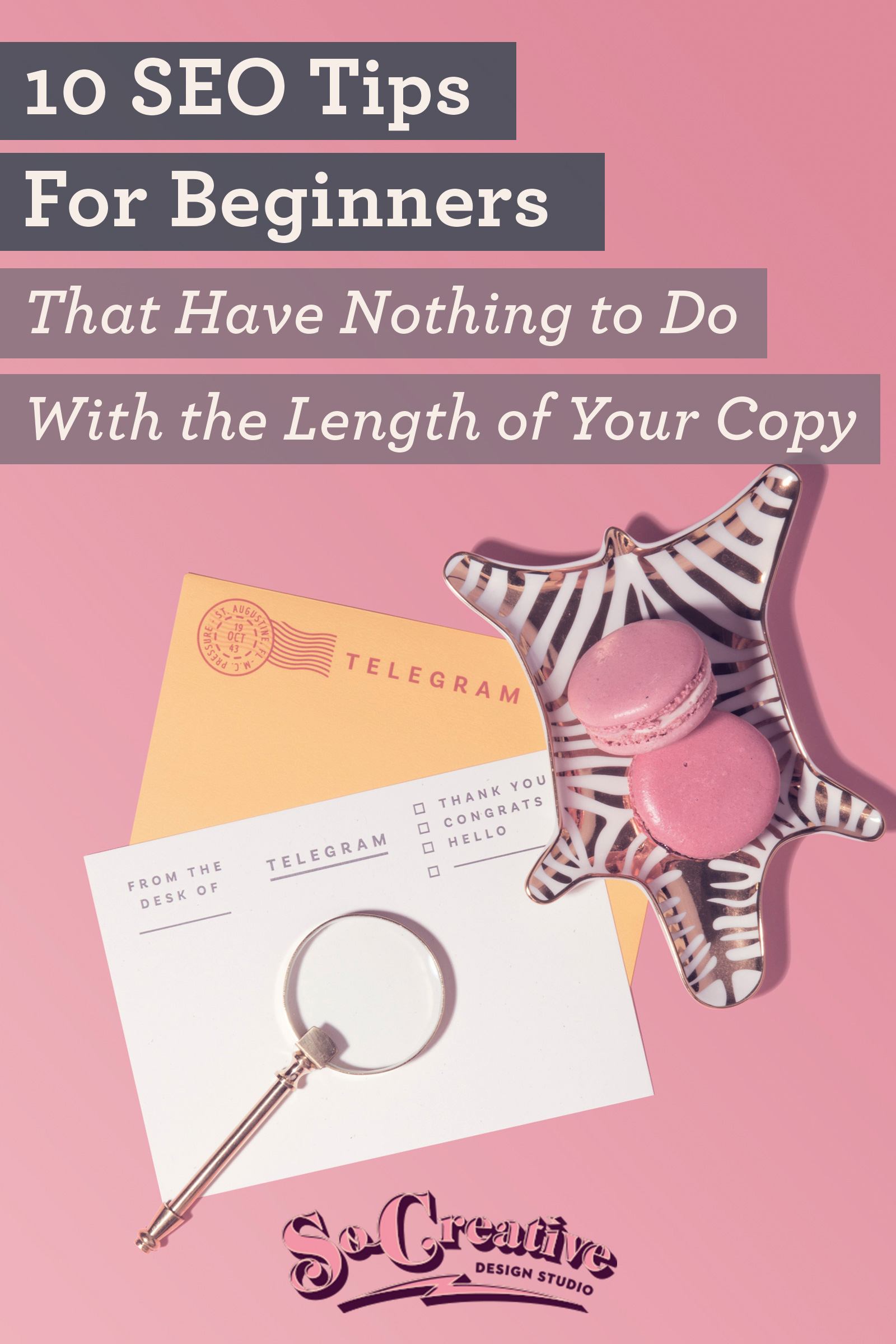 Here are 10 SEO tips for beginners that are easy to implement that aren't overwhelming. Because SEO, Search Engine Optimization, Google Glitter, or whatever you want to call it, it can be confusing, but we all want it- to be ranked on Google. 
But before we get started I want to clear the air a bit regarding what you should focus on: SEO or user experience?
The answer is user experience. Always. This is the biggest of all SEO tips for beginners.
Why?
Because when people land on your site, they need to be able to use it.
They need to not be overwhelmed by tons of copy.
Even if that copy is landing you on page one of Google.
It doesn't matter how well you rank. If you're website isn't setup in a way that is converting visitors into leads, then you're doing something wrong. 
So our best advice moving forward is to focus on the experience and selling your products and services on your homepage and sales pages and focus your SEO efforts on your blog. 
There are over 200 ranking factors in the most recent Goggle algorithm, Butterfly, and only a handful of them have to do with how long your page copy is.
If you're using WordPress or Showit with WordPress integration, I highly recommend the Yoast plugin for optimizing your blog posts, but take their advice on your other pages cautiously. Yoast is, after all, a computer program and doesn't understand the psychology involved in writing effective sales copy- leave that to the humans!
Need some website copywriting tips? Head on over to this blog post and discover five website copy mistakes that are killing your conversions.
So here are ten SEO tips for beginners that will help improve your rankings that don't involve writing a novel.
#1: Focus on Mobile First (The Most Important of the SEO Tips for Beginners)
In March 2018, Google announced that it was going to begin "mobile-first indexing," fancy talk for your mobile site better be optimized.
When designing your site, you need to keep the mobile-friendliness of your content top of mind.
Above all else, your site should be responsive, meaning it scales to whatever device it is being used on.
This is one of the many reasons we now build our clients' sites on Showit; it has a separate mobile design interface that allows us to design a completely-customized mobile site that is independent from the desktop. Takes a bit more time, yes. But well worth the efforts considering most people are now using their phones for viewing websites.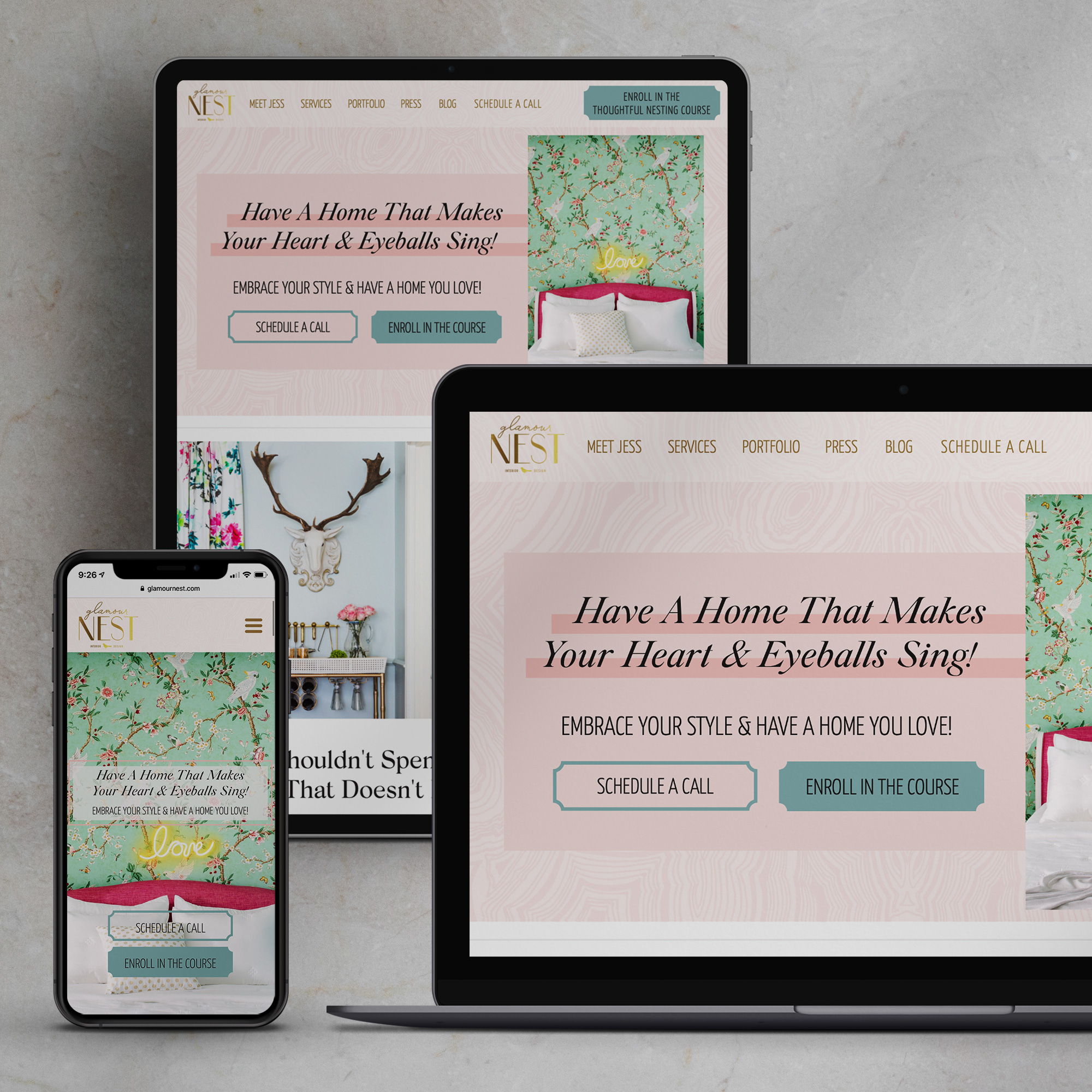 This is nearly impossible to do on Squarespace and a haggle on WordPress.
Check out the other reasons we converted to Showit in this blog post.
#2: Focus on Quality
I've read through over 200 factors that Google uses to rank website (you can too here if you want to procrastinate or you're a super nerd like me) and one thing was very clear.
There is an abundance of factors that involve the quality of your content.
The depth of your content is one of them (blog posts only please), but it goes beyond that.
One quality test is also your bounce rate- whether or not people are leaving your site after viewing one page or if they're sticking around, clicking around, getting sucked into the rabbit hole of your brand.
Do you have comments? That means people are engaged!
Are you using H1, H2, and H3 tags (headlines) to help people interact with your content more easily?
Are you using bullets and numbered lists to help readers digest information?
Are broken links being fixed?
Are you getting direct traffic from loyal clients and customers?
Are people bookmarking your content?
All of this contributes to the quality of the content, which will improve your SEO.
The Google AI is becoming more and more advanced and we don't know how they do it, but they know when a page has quality content and when it's just fluff.
Fluff includes too many links out (such as roundups) and pages that are solely based on affiliate links. Google isn't a fan of affiliate links, so use them wisely. A good rule-of-thumb is to make these "no-follow" links. You can easily click the "no follow" button in Showit when linking to an affiliate.
#3: Focus on Originality
We were once able to duplicate a page, change a bit of text, and boom- instant new content!
Those days are gone.
Google doesn't like it when we try to cheat their system, and they are constantly catching on.
So don't duplicate your content.
This goes for people wanting to repost your blog posts on their blog with a link to your site- one of the easiest SEO tips for beginners out there!
Don't let them because that duplicated content will hurt your SEO and your blog post might not be indexed, meaning it won't show up in a search.
 Google also isn't a fan of "harvested" pages, meaning you've gathered a bunch of other people's content (be it images or videos from YouTube) and you've made some commentary.
Yeah, it's easier than writing an original post, but it's not going to do you any good with the Google!
The trick here is to be original and create new, valuable content for your readers. Sounds like a no brainer!
#4: Include Keywords (The Most Overused of the SEO Tips for Beginners)
For the longest time, keywords were all people talked about when they mentioned SEO.
Keywords, keywords, keywords.
And while there are several ranking factors that involve keywords, many of them have little importance.
So what is a keyword?
It's a string of words that you want to rank for.
For instance, this blog post's targeted keyword is "SEO tips for beginners."
For instance, if you are a wedding photographer in Nashville, you will most likely want to rank as best you can for "Nashville Wedding Photographer."
So where do you put that keyword?
In the site title
In the page title
In the page description
In the first 100 words of your page copy
In an H1 tag (combine this and #4)
In your domain name (if possible)
In the website URL slug (the string of words after your domain if this isn't your home page)
Sprinkled in your page copy in a natural way (this doesn't have a huge impact according to the recent update)
In H2 or H3 tags
In image metadata (which we'll get to in a sec)
#5: Freshen Up Your Website
This might be the hardest of the SEO tips for beginners because it involves being consistent.
Google wants to know if your business is actually still in business.
So you can't just launch it and forget it.
This is called the freshness factor- and so many of the ranking factors under the new Google algorithm include keeping your website fresh.
Is your content recent and up to date?
This includes updating portfolio pages, adding fresh testimonials, etc.
This also includes blogging. 
It doesn't matter if you hate blogging.
It is the #1 way to ensure that you are updating your site with fresh, original content on a consistent basis.
This is in all the Google-knowledge out there, but we've also seen this first-hand. As soon as we've stopped blogging/vlogging on a consistent basis for any of our sites, the organic traffic from Google drops significantly.
So stop crying and blog!
#6: Keep an Eye on Your Site Speed (One of the most overlooked of the SEO Tips for Beginners)
There are several factors that may be bogging down your site, causing it to run at a slower speed, and because this interferes with the user experience of the site, it hurts your search engine optimization.
Certain causes may include the use of too much Javascript (Squarespace sites rely heavily on this) and images that aren't optimized for the web, meaning they're friggin' huge.
If you want to checkout how your website's speed is doing, head on over to Google PageSpeed Insights. It will also give you suggestions for improvement. 
We wouldn't rely on what Squarespace is telling you about your site speed. Of course they're going to tell you it's fabulous! Get your insights from Google.
#7: Add a Terms of Service and Privacy Page
As simple as this may seem, these are ranking factors.
They're part of the "trust" factors, meaning your site is trustworthy.
All you need to do is add these in, make sure they're titled "Terms of Service" and "Privacy Policy" and voila! Instant Google Glitter!
#8: Add YouTube Videos and Multimedia
Google owns YouTube.
Therefore Google loves it when you embed your YouTube videos into your blog posts.
Steph had a show called The Decorettes and she poppped videos into blog posts every week. That site outranked many of our other sites that have lengthier content for one reason- it's linked to YouTube!
But the sign of a high quality page also means that it isn't just text.
And Google loves high-quality pages, remember?
So add in images as well!
#9: Add Metadata to Images
Speaking of images, let's optimize them while we're at it.
First, they need to be a manageable size. If you're on Squarespace, they will resize your images for you, as will Showit. For WordPress users, you'll either need to save your images at an optimized size (too much work) or use WP Smush and it will do the work for you.
Now for all the metadata.
Don't worry- it's not as difficult as it sounds. You'll want to optimize your images by adding your keywords to a few places.
The title of the file before uploading
The alt text
The title
The description
The caption
If you're on WordPress, you'll have complete control over all of these areas. Squarespace has limited keyword tagging features for images, so just do the best you can.
Adding your keywords to images will not help you in the general Google search, but they will help with the image search. 
#10: Add Links
There are two kinds of links.
Outbound links (to outside of your site) and inbound links (to other pages on your site).
Every page on your site, with the exception of checkout pages and landing pages should have some sort of link.
Outbound links should send visitors to other trusted authorities on your topic. Remember, affiliate links aren't Google's favorite, so mark them as no-follow if possible.
Inbound links are the obvious ones- link to other pages on your site!
Home pages and sales pages should link to either your contact page or checkout page.
Blog posts can link to other blog posts, sales pages, landing pages, etc.
Just a couple of Google ranking factors to keep in mind:
Outbound and inbound links need to be to quality pieces of content.
Make sure to check for broken links regularly (schedule a monthly website maintenance day).
Don't use too many outbound links. Google sees this as spam.
SEO Tips for Beginners: Conclusion
Okay- that was a lot.
But totally doable!
Make it a priority to every month or week improve one SEO factor for your website.
Remember, SEO takes time to implement and time to reap the rewards from it, so starting slow and keeping it steady is the key!
Which factor will you be focusing on first? Drop us a note in the comments and let us know if you have any questions!