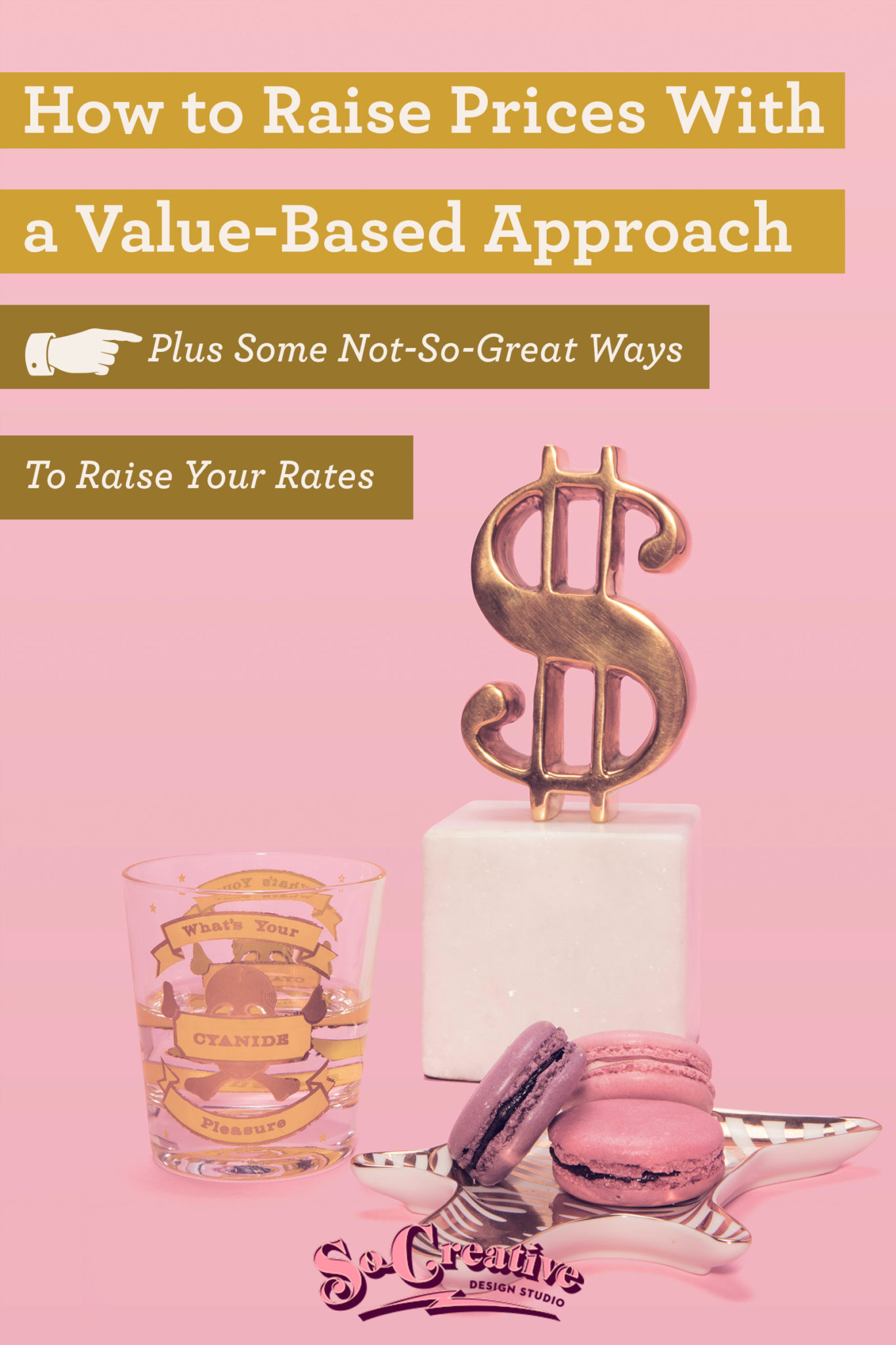 You've probably heard all kinds of advice on how to raise your prices. 
Maybe you've had family tell you you deserve more. They love you- of course they're going to say that.
Or perhaps you've asked people in Facebook groups how much they'd pay for your product or service. But hey- how do you know if they're your ideal customers? Odds are, they aren't. At least, they're most likely not going to give it much thought.
And then there's scoping out the competition. Whatever they're charging must be what you should charge. But then again, how do you know how many customers they have and what the behind the scenes of working with them is really like?
You don't.
Which makes the whole topic of pricing and determining how to raise pricing a very confusing one.
But it really isn't. There's two things you can work on to raise your prices. But we'll get to those. 
Right now, let's talk about three very enticing, very common ways to determine how to raise prices. And we don't necessarily think they work.
Some Approaches To Raising Pricing That Need to Be Rethought
The Every-10-Projects Method
When asked how to raise prices, we once heard a brand identity and website designer say to do it every ten projects.
Sounds like a good idea- in theory.
What this designer didn't say was that she had a two week turnaround for each client project, which means she got to raise her prices every ten weeks because she had built a not-so-custom, templated method of brand building, something that goes against our values as builders or stand-out brands.
Nothing was changing with the service within those two weeks. She had done a great job of systematizing her service to a point where there was very little client interaction, very little customization, and almost no strategy involved.
But what if you're a service provider and take on one client at a time and do some deep, highly-customized and strategic work for 4-5 months each? And with each new client you keep improving the level of service you provide? With the Every-10-Projects method you wouldn't get to raise your prices for over four years.
This method is just too programmed to hold up. It doesn't account for business owners who drastically improve their level of service. It also gives a pass to others who haven't done anything to improve their service.
The Supply-and-Demand Method
Okay, I know your high school economics teacher is going to argue with us on this one.
Let's think about it.
Before you raise your price because you have more business than you can handle, think about why you have more business than you can handle.
Is your product or service truly underpriced? Or is the reason people keep coming to you time and again because you're cheap?
If Fiverr decided to raise their prices, they'd lose customers. So would Walmart. And McDonald's. 
But then let's talk about our favorite local restaurant, Luna's Modern Mexican Kitchen.
From the beginning, their dining experience was off the charts. The best Mexican food in the area (and since we're in SoCal that's saying something), gorgeous interiors, friendly service, comfortable seating. 
And they were highly underpriced. This price did help them gain a following of loyal guests, but not long after their opening, they raised their prices by about 75%. We barely noticed and didn't care. They could still charge more. Gimme those chimichangas!
Because this method is so convoluted and difficult to navigate, we don't recommend it unless you've also done the work in creating a highly valuable product or service that's worthy of a higher price, which we'll get to in a sec.
The Every-Year Method
Similar to the Every-10-Projects method, but even more programmed. Raise your prices every year.
There's a huge reason we don't like this method. It's a cop out for not improving your brand experience. It gives you an out for not providing more value year after year.
Just because you're more experienced doesn't automatically mean you're more valuable.
And what if you barely had any business within a year? Are you still going to just raise those prices? 
How to Raise Prices Using a Value-Based Approach
We've been leading up to this.
You've got to create a stand out experience that's worthy of a premium price.
And there's really only two things you need to do. Which is good. Because neither are easy and both take time and effort. But hey- if it was quick and easy, then everyone would be charging premium prices. Right?
Ignore Your Competition By Looking Beyond the Competition
Stop looking at what your competition is doing and how much they're charging. This will lead to one thing- you doing the same thing and charging the same price, or maybe a bit lower. Because in the end, if two businesses have the same experience, who's gonna get the customers? The business with the lower price. Case closed.
Instead, look beyond your competition. We're talking about looking at those companies that are way ahead of you, both in years of experience and revenue.
How can you provide what they're providing in some way? The analogy I always think of is how can we create a Tesla experience without the Tesla price tag?
Seek out mentors, even if they don't know they're your mentors. Dissect what those companies and business owners are doing.
Do they have an amazing unboxing experience? How can you upgrade your packaging?
Are the photographs of their products highly-stylized studio shots? Book a photographer that can help you level up your product photos.
Is there a service provider that's eons beyond where you are? Have they been interviewed on podcasts and YouTube shows? Binge, take notes, and implement.
You're not going to charge what they're charging, maybe not yet and maybe not ever. But by looking at those brands who have both the price point and customer base you'd love to have some day, you can make incremental upgrades that make your product or service have more value.
And the phrase "charge what you're worth?" We heard a business coach once say that line is a bunch of BS. We heartily disagree. We're not talking about charging what you're worth as a human being. Because your value as a human isn't more than anyone else's. But your offerings sure can be- that's the best way to raise your prices. By providing more value.
Out value the competition and there will be no competition.
Specialize So You're the Only One
Speaking of competition, wouldn't it be great if there just wasn't any?
That's the power of differentiation.
And we're taking meaningful differentiation.
Services, products, brand culture and values, who you service.
Can you say you're the only one in your industry that [fill in the blank]?
None of our clients leave without their "Onliness Statement." It's that one statement that shows they are the only business around doing something very different than everyone else. It takes a lot of time and conversation and brain power. That's why we don't have a two-week turnaround on a brand design. 
Want to really know how to raise prices? Be known for being the only one in your industry that does something specific and create a brand experience for your customers that's in line with brands and price points well beyond your own.
How to Raise Prices: A Look Inside Our Own Studio
Since we had our first clients three years ago, we've raised our prices by five times what they once were.
Most of these price increases have happened in the last six months.
Here's a rundown of some steps we've taken and our future action steps so you can see how this all looks in the real world.
We became StoryBrand Certified and added brand messaging into each brand identity project. This has been a $15,000 investment.
We read and implemented a great deal from Freelance and Business and Stuff by Amy and Jennifer Hood, owners of Hoodzpah Design, a studio that works with nationally recognized brands and charges much more than we do. We've also stalked all their YouTube videos and worked to present our identity packages in a similar manner.
We've read and have implemented several of the principles from The Brand Gap and Zag by Marty Neumeier. By the end of the year we'll have worked with him to become Certified Brand Strategists with Level C.
We implemented several courses and kits from The Futur, founded by the designers behind Blind. When currently designing, Blind charged at minimum $250,000 for a brand identity project. We aren't ever planning on charging that much, but knowing we're giving a very similar experience to a $250,000 experience makes us feel really good about our pricing.

We're continuing to develop our personal design style and values. Where clients originally hired us for our strong brand strategy skills and diverse design style, we're now being hired by brands that want the aesthetic we excel at, which is further differentiating our brand. Differentiation is, and will constantly remain a work in progress.
Determining How to Raise Prices Shouldn't Be Systematized
You can't just simply set a timer on raising your prices.
And you can't raise the price on a cheap product or service just because people are buying.
Your brand needs to establish true value and be so vastly different from the competition that there is no competition. When you raise your prices, you should be confident that you're doing the right thing. There will be no second guessing because you know what your offering far exceeds a price tag.
The discussion on how to raise prices is a complex one. And it deserves some complex thought and strategic action for those new prices to stick with customers.